Colposcopy is a procedure performed when the screening Pap test is abnormal. Colposcopy allows your gynaecologist to confirm the abnormality found on the Pap smear, and to determine the extent of the abnormality. It is important to have a colposcopy to ensure that the Pap smear has not missed a more significant abnormality (like cervical cancer), and a colposcopy will allow your gynaecologist to determine the most appropriate treatment for the cervical abnormality detected by the Pap smear test.  Dr Amy Tang is a Brisbane colposcopy specialist and female gynaecological oncologist who specialises in colposcopy for diagnosing and treating Pap smear abnormalities.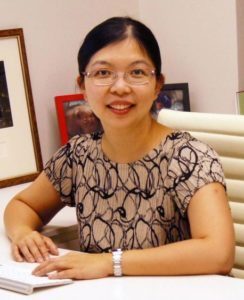 What does Colposcopy involve?
Colposcopy is a procedure where Brisbane colposcopy specialist Dr Amy Tang will use a colposcope to look at your cervix under magnification. A colposcope is just like a set of binoculars on a stand. The colposcope does not enter your vagina, and does not even touch your body. Dr Amy Tang will position the colposcope between your legs, and then gently insert a speculum into your vagina, just like when you are having your Pap smear with your GP. The procedure is not painful, but similar to a Pap smear examination, it can often cause some discomfort.
Abnormal cells on the cervix are highlighted by applying a small amount of Vinegar (very mild Acetic acid) to the cervix. It may feel a little cold and some women experience some mild stinging when this vinegar solution is applied to your cervix, but it does not hurt or cause pain. If an abnormality is seen on your cervix, a tiny piece of tissue (biopsy) may be sent to the lab for further analysis. Just because a biopsy needs to be taken does not mean that Dr Amy Tang thinks you have cancer. After the biopsy, there will be a small amount of spotting, and Dr Amy Tang will apply a yellow paste to the area. This acts like a bandage to stop any bleeding.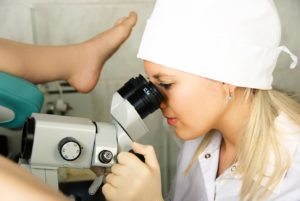 It is normal to feel some cramping or discomfort after the biopsy, but this feeling is temporary, although some women may prefer to take some simple pain killers such as Paracetamol or Ibuprofen, which are very effective in relieving this discomfort.
The procedure only takes about 5 to 10 minutes, and in many ways, it is very similar to having a Pap smear. The colposcopy procedure is performed as part of your consultation with Brisbane colposcopy specialist Dr Amy Tang.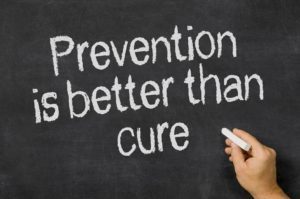 Why do Women see Dr Amy Tang for Colposcopy?
As a gynaecological oncologist who specialises in diagnosing and treating cervical cancer, Dr Amy Tang understands that when a woman is referred to her with an abnormal Pap smear result, they are often very anxious about what's going on, and she will do everything possible to explain to you what she is doing and what she is seeing as she performs the colposcopy. As soon as she has finished the colposcopy, she will be able to tell you her preliminary diagnosis. In the majority of cases, the abnormality is a pre-cancerous change of the cervix that is NOT cancer. The role of the Pap smear is to screen for early pre-cancerous changes of the cervix, and these cervical abnormalities can be easily treated to prevent the future development of cervical cancer.
As a sub-specialist gynaecologist whose primary focus is female malignancies, Dr Amy Tang is a very experienced colposcopist, and is one of Brisbane's top colposcopy specialists.  Many women from all over Brisbane are referred to her for Colposcopy when they have an abnormal Pap smear.  Before she started private practice in Brisbane, she was a consultant staff specialist in gynaecological oncology at the Royal Prince Alfred Hospital in Sydney, where she supervised and taught many junior gynaecologists in performing colposcopy and treatment procedures for cervical abnormalities. She has extensive experience in treating pre-cancerous abnormalities of the cervix, including LLETZ procedure, Cone Biopsy, and Laser ablation procedures of the cervix. She is an accredited colposcopist of the Royal Australian and New Zealand College of Obstetricians and Gynaecologists (RANZCOG).  In order to ensure the highest quality of care, Dr Amy Tang is actively involved in the RANZCOG colposcopy audit program (C-QuIP).


Early Appointments for Colposcopy
As a female gynaecologist, Dr Amy Tang understands that many women will be very anxious after being told that their Pap smear result is abnormal.  It is important to realise that most of the time, this does NOT mean you have cervical cancer.  In order to avoid prolonging the unnecessary anxiety, Brisbane Colposcopy specialist Dr Amy Tang will try to prioritise appointments, so that women referred to her for colposcopy can usually be seen within 1 week.  Call 3319 1515 and ask for a Colposcopy appointment.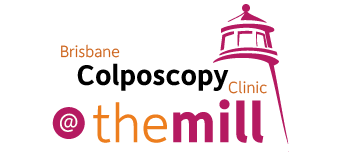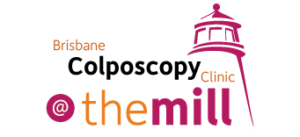 Continuity of Care for Women Diagnosed with Cervical Cancer
As a gynaecological oncologist, Dr Amy Tang is experienced in surgery for treatment of cervical cancer in the unlikely event that cervical cancer is diagnosed at the time of your colposcopy. This not only ensures continuity of care, but it also means that you do not have to wait for another sub-specialist referral to see a gynaecological oncologist after your initial colposcopy. This avoids any delay in treatment. It also avoids the need and expense to see yet another specialist, avoiding the need to answer the same questions from another specialist again.  It also means that any questions or concerns you have about cervical cancer will be answered straight away by Dr Amy Tang, as she will continue to be your specialist treating your cervical cancer.
Who should have a Colposcopy?
Apart from women abnormal Pap smear results, colposcopy may also be recommended for other women with:
Bleeding after sexual intercourse (post-coital bleeding)
Persistent vaginal discharge
Abnormal appearance of the cervix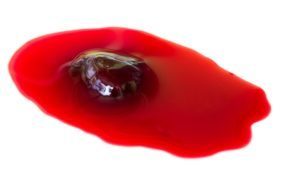 Click here to book an appointment for a Colposcopy with female gynaecological oncologist Dr Amy Tang.  As long as you have a referral letter from your doctor, you will be able to receive a Medicare rebate for your consultation and colposcopy procedure with Dr Amy Tang.  Private Health insurance is not essential.